As I noted recently, I love my worms.
For the past couple of years I've had a Can-O-Worms
worm farm in the backyard (although they're also fine in the kitchen, if you have room). In fact, I love it so much that it came with me when I moved overseas.
Here's a look at this superb piece of equipment.
What is a worm farm? What do you do with it?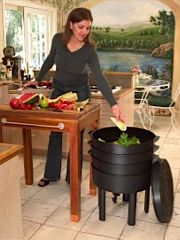 Before discussing the Can-O-Worms itself, let's take a step back and look at worm farms in general. After all, they're not as common as they should be.
A worm farm is like a potted plant, without the plant. It's a large container filled with soil, with drainage holes in the bottom and some sort of a lid to keep out the rain. Living in the soil are several hundred worms.
The idea behind it is simple : your kitchen scraps (teabags, potato peelings, eggshells and so on) are put in the top, and the worms convert this into nutrient-rich 'casts' and fertiliser. These can then be added to your vegetable garden, and the process starts again.
NB : The 'casts' (sometimes called 'vermicasts') are really just lumps of soil that have already been processed by the worms.
[Read more…]