I bought this book several years ago to satisfy my curiosity about vitamins. Whilst it answered most of the questions I had at the time, it raised many, many more. Perfect.
The Optimum Nutrition Bible
is certainly a comprehensive guide. As the name suggests, it's a great reference guide; but it also contains an excellent introduction to the basic ideas of Optimum Nutrition.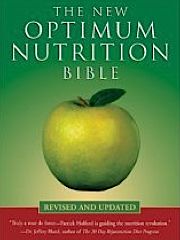 The edition I have (2004, paperback) begins with 5 chapters looking at various aspects of Optimum Nutrition itself – what it is, ideas on the perfect diet and a look at the wondrous workings of a healthy digestive system.
However, it's the second half of the book that I find myself referring to on a regular basis. Here's a brief look.
[Read more…]