This is the second article in a 6 part series on Saving Water (see part 1 on saving water). Living in Sydney, Australia I'm acutely aware of the value of this precious resource.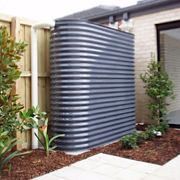 Today we'll be looking at something for home-owners worldwide – the benefits of using a water tank. A rainwater tank, that is.
When I was growing up in Sydney there was no thought of restricting water use. It was common to see people watering their lawns in the evening, washing the car (with a high-pressure hose) on the weekend and standing under the cool, running water on a hot day.
In recent years (over the past decade or so), the idea has been gradually spreading that water is a valuable resource. This is particularly evident during periods of drought, when water restrictions are in place.
[Read more…]