This is the second part of the Kitchen Essentials series . Whether you're stocking a new kitchen or just updating a few things, this is a great place to start.
A few years ago I had a part-time job in a nearby cafe. One of my coworkers was a professional chef who'd recently moved to the city, and was working there whilst looking for a full-time restaurant position. Her skills in a number of areas were far greater than those of everyone else in the kitchen, so it came as little surprise that she brought her own knives to the job.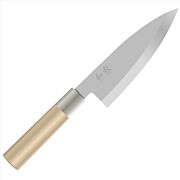 After using them a couple of times I realised that there was an enormous difference between these superb tools and the cheaper options scattered about the cafe. They were well balanced, easy to clean and incredibly sharp. Superb.
It was then that I stopped using my cheap set of knives at home (ones that had come free with a knife block), and went out shopping for something a little more serious. If you don't have the luxury of going knife shopping with a chef, here are a few things to keep in mind.
[Read more…]