If you've ever found yourself eating from cardboard and plastic containers using flimsy wooden chopsticks, the phrase 'healthy Asian cooking' may sound a little odd at first. However – as with most types of cooking – doing it yourself can make a big, big difference.
This series looks at several basic concepts which will help you put simple, healthy meals on the table whilst keeping the cost down, and the kitchen time to a minimum. It's very much a win-win-win situation.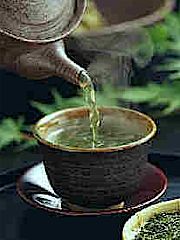 I'll keep my obsession with green tea for another article, but suffice to say I love the stuff. One excellent – although somewhat uncommon – way to include it in your diet is to cook with it.
If this sounds a little odd to you, just think of a teabag as a bag of spices. Before you can make best use of them, the following methods with help you extract the flavour :
[Read more…]